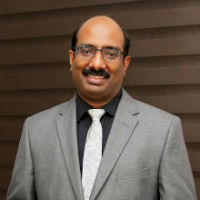 ---
Description
An eminent maxillofacial surgeon from Kerala with 20 years of experience in dentistry, 14 years in oral Implantology and 10 years in maxillofacial surgery and reconstruction.From last 5 years into digital protocols in dentistry and surgery.
He was an associate professor in maxillofacial surgery and now to full time dental and surgical practice
He is the founded director and chief surgeon at Kamala Dental Specialty Hospital, Trivandrum – an advanced center for dentistry, Implantology and maxillofacial surgeries.
He is a consultant to many trauma centers in Trivandrum. Sought after speaker in the field of oral implantology and he's known for his passion and dedication in experimenting and adapting new protocols, talking today on the subject how to refine our implant practice with most modern protocols yet not diluting the basic principles.